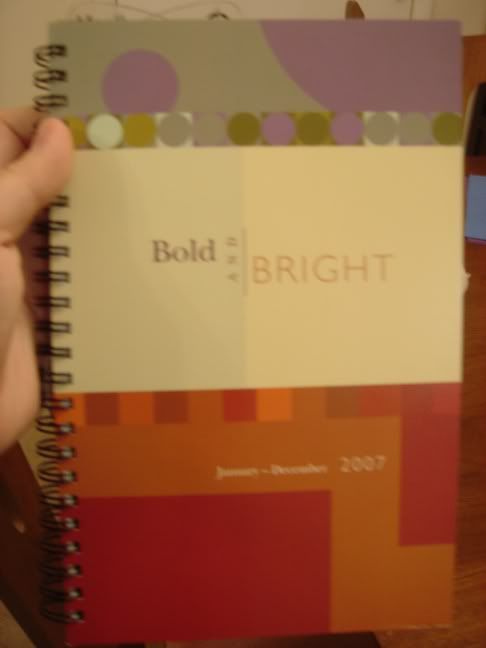 So today was my first day back to school. I had my internship class, and it met at 9am. This was really weird feeling, because all my other classes have been in the afternoon. It was nice though, because I had the rest of the day to run around. Scott and I went to lunch at Shoney's, and I searched for "The Perfect Planner." Amazingly enough, I think I actually found it. I'm picky in that I want to have a decent monthly view (so I can put my stars on the days I have stuff to do) *and* a weekly view with appointment times. This was much harder than you'd think. I love the monthly planner I have, but I'm about to start seeing clients. I'm going to need to write down their times, as well as any other parent meetings/supervision/school meetings that might occur at internship. So until 2007, I'll be using two planners...one for school and one for internship. The only problem with "The Perfect Planner" is that it doesn't start until 2007. But, it does have all the monthly views right in a row.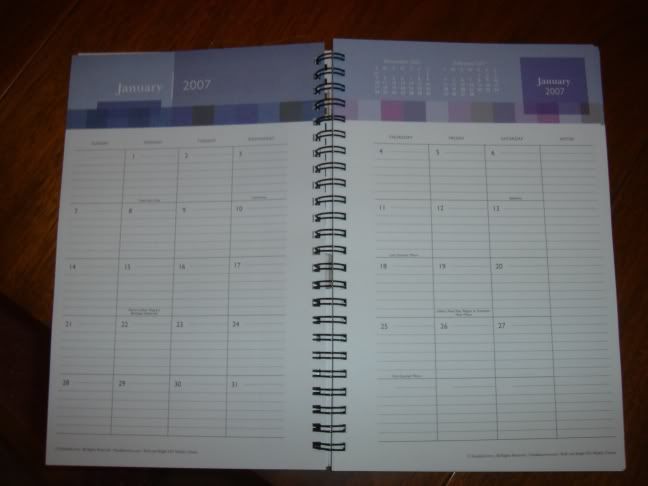 That way, if I need to know what I'm doing in August and Spetember, I just turn the page. I don't have to go searching through the weekly view pages to find September. It has handy little plastic markers that go on the month and week that is current. Yeah, I realize I'm a total dork for writing this huge paragraph about my planner (and posting pics) but it's so hard for me to find the right one that I'm way excited about it. And, get this...it even has pretty colors. Usually I have to sacrifice aesthetic value for function, but not this time!
Franklin Covey
, you have a customer for life if you keep making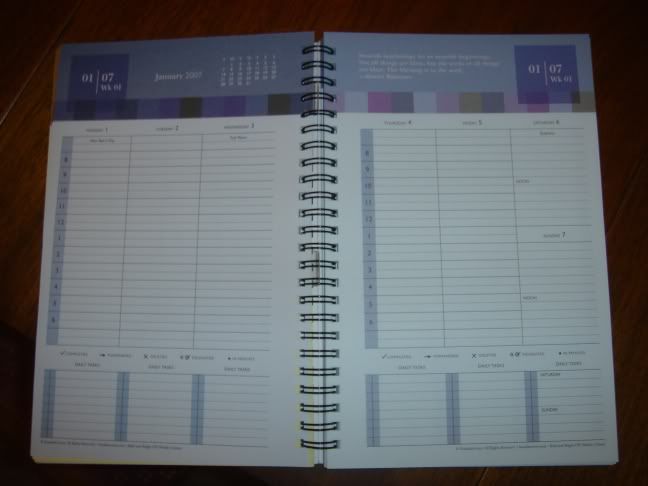 planners like this.
Aside from planner excitement, I made a chocolate peanut butter pie tonight. Oh. My. Goodness. It is so good. I haven't even eaten the pie, just tasted the filling that I licked off the bowl (and spoon and beater things). It's a Weight Watchers recipe, and is only 4 points for 1/8 of a pie (for those that have no clue about WW, 4 points for decent size dessert that tastes this good is amazing). So I'm going to take the pie, along with a pudding cup, to the retreat tomorrow. I know there's going to be a lot of cookies and brownies and sweet stuff, so I'm really happy to know that there's something I can eat. I'm also taking all my own food so I don't have to worry about trying to figure out how much I'm eating and all that stuff. I'm really hoping the retreat will go well. We've planned the heck out of it in hopes that it'll be way better and more organized than last year's. Last year was so badly organized that it wouldn't take much to make it better, but still. We want it to be awesome for the 1st year students. The students I've met so far seem really nice, and I can't wait to get to know them better.
I don't have much else to say, except that I have a wonderful boyfriend. I came home from our retreat meeting irritated because Scott didn't answer his phone. I got more irritated when I realized that my recipe needed a mixer, which I didn't have. I was getting frustrated with the thought of sitting there by cookies and wanting one soooo bad. Anyway, he said, "Put your shoes on. You go to Kroger and get the stuff, and I'll go to Target and get the mixer. I'll get you a blender too, so you can make those smoothies." It made me happy that he was willing to go to Target (which is about half-way home for him) and get me a mixer at 8:30pm just so I could make a pie. =) If anyone wants the recipe, leave me a comment (with e-mail) or e-mail me and I'll get it to you.