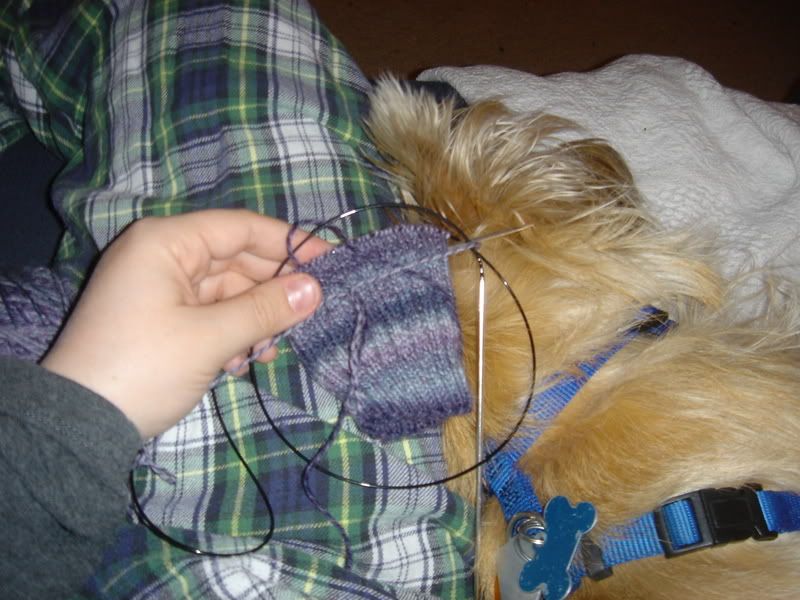 Titles are complicated.
I forgot to take my camera with me for part of the day, so I missed some photo ops. Today's picture is kinda boring, but that's ok. This is a pic of my knitting area. Riley likes to help, as you can see. He snuggles right beside my leg, and twitches if the yarn or needles touch him. The sock in the picture is my current project, and is being made in Trekking XXL color 109 in the garter rib pattern from Sensational Knitted Socks. It's actually neat to look at this pic, because I've gotten a whole lot more done since I took it earlier tonight.
I got some of my Japan pics printed today, but they don't fit in the frames. Wonderful. I need to get mats for two of them, and cut off the white edge on one. Maybe that'll get done tomorrow. I also cashed in two of my savings bonds (which, btw, are the best things in the world. I'm totally going to do them for my kids) to pay for the National Certified Counselor (NCC) exam in April. It's $230 (!), and I really hope I pass it. If I pass, then I"ll have fancy letters after my name. Besides that, I basically sat and knitted on my sock.
Tomorrow I need to renew my Weight Watchers membership for another session or whatever. I'm hoping this is my last, as I'm around 6-8 pounds away from goal (depending on where I decide to stop). After I hit goal I have to maintain for 6 weeks. Then I'm a lifetime member, and don't have to pay unless I gain more than 2 pounds above my goal weight. Yay for free! I plan on going to meetings at least periodically so I can keep up with everything.
I guess that's it for today. Back to sock knitting!